Attention A T users. To access the menus on this page please perform the following steps. 1. Please switch auto forms mode to off. 2. Hit enter to expand a main menu option (Health, Benefits, etc). 3. To enter and activate the submenu links, hit the down arrow. You will now be able to tab or arrow up or down through the submenu options to access/activate the submenu links.
Rehabilitation and Prosthetic Services
Device Review: VoiceCue by Attainment Company Inc.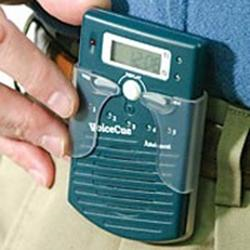 Reviewed on February 18th, 2013
By Telina Caudill, M.S., CCC-SLP, ATP
Overview
The VoiceCue is a low-tech, inexpensive, portable auditory cueing device with uses that include timed reminders for specific tasks or timed prompts for staying on task. It is lightweight and comes with a dual purpose belt clip and protective shield for the few existing external buttons minimizing unintentional button depression. It offers automatic, personalized voice recordings at pre-determined times as opposed to a simple alarm or beep. Examples of uses include alerts for toileting schedule, rehab schedule, medication schedule, reminders to refer to memory notebook, reminders to make entries in journal, reminders to check voice memos, reminders to take a break, reminders to study, etc. The VoiceCue is a simple device that works well for its intended purpose. It is not sophisticated or elaborate in its features.
Indications
The VoiceCue is appropriate for individuals who have mild-moderate cognitive impairments negatively impacting functional memory, attention and/or initiation abilities within daily routines. Additionally, the VoiceCue is an appropriate solution for those with comorbidities such as vision or language impairment (i.e., alexia) who do not benefit from external visual or written aids such as memory notebooks or cell phone calendar alerts as the visual component is replaced by verbal output. Furthermore, the recessed buttons as well as protected external buttons of the VoiceCue offer added security for maintaining the programming for individuals who present with significant confusion or are prone to explore technology, inadvertently adjusting the programming of the device (i.e., changing the time, date, alarm settings, etc.). A repeat function offers individual days, weekdays or daily options.
Contraindications
The VoiceCue is not appropriate for individuals with impaired auditory comprehension or significant hearing loss. The VoiceCue allows for 5 recorded messages to play back up to two times each; thus, offers 10 alarms but only 5 voice messages. If the individual needs more than 5 prompts or 10 alarms, the VoiceCue is not indicated. Also, if specific repeat options such as Mondays and Wednesdays only are required, the VoiceCue would not fulfill that requirement.
Criteria for Evaluation of Assistive Technology Device
Affordability: At $39, including the belt clip and 2 AAA batteries, the VoiceCue is very affordable.
Compatibility: N/A. The VoiceCue is a standalone device.
Consumer Repairability: In our experience, we have not had need for repair beyond battery replacement. There is a 1-year warranty included, where, in some cases; the individual must cover the cost of shipping to the company. This is determined on a case-by-case basis.
Dependability: Reliable.
Durability: Sturdy plastic including clear plastic container + clip. The device is not water resistant or water proof.
Ease of Assembly: Quick and relatively easy. Place two AAA batteries, set the time and date, record up to 5 messages (12 seconds max each) and set playback time/day. Programming is completed directly on the device utilizing the external buttons and recessed buttons via pen tip or paperclip.
Ease of Maintenance: Maintenance is limited to battery replacement when indicated by the flashing blue LED light. Voice recordings are maintained after battery depletion/replacement, though time and playback settings must be reprogrammed.
Effectiveness: For simple reminders and with individuals who are generally responsive to isolated voice cues to initiate a task, the VoiceCue is effective. Limitations, for those with intact vision and language, include lack of visual component. Specifically, the VoiceCue does not provide a visual representation or list of upcoming appointments or reminders; so that the user is subject to only receiving reminder alerts on time vs in advance (i.e., the day before or at the start of the day). In these cases, and if desired by the user, a separate visual component is sometimes recommended; however, maintaining two systems can be considered a disadvantage from both a portability and an all-inclusive, simplistic system standpoint.
Flexibility: The VoiceCue allows for 3 repeat options including individual days, weekdays and daily; which is limited for those users who need customized repeat options such as Mondays and Wednesdays or the 3rd Friday of each month.
Learnability: The manual that accompanies the VoiceCue is simple, succinct and limited to only two pages. The instructions are generally descriptive and effective though it may take some practice to perfect the timing required for programming this device. The programmer has 3 seconds to respond to individual features and starts from scratch if the opportunity was missed. The few external buttons, although an advantage for some users who become easily distracted, can result in a slightly more labor intensive programming process with more referencing back to the manual vs independent exploration. In other words, the programming is relatively simple for those familiar with the device but is not intuitive and may take more than one attempt for the novice.
Operability: Once programmed, the operation of the device is automatic and no upkeep is required.
Personal Acceptability: The VoiceCue is small and discreet and is not deemed recognizable as a cognitive aid. Some specific user feedback includes embarrassment (within public areas due to the voiced alerts) and startle response to the voice alerts.
Physical Comfort: The VoiceCue is small, lightweight, easy to hold in one hand and does not become overheated.
Portability: Small, lightweight, easily held in one hand, easily fits in a pocket, purse or wheelchair/walker carrying pouch and can be clipped to a belt, shirt, wheelchair arm rest, bedrail, etc.
Securability: In terms of theft, the VoiceCue is inexpensive and likely not an attention grabber. It can; however, be maintained in a purse, pouch or pocket rather than more conspicuous locations such as on the waist. There is no backup feature for the programming should the battery become depleted and timed settings must be reset in this case.
Supplier Repairability: There is a 1-year warranty included, where, in some cases; the individual must cover the cost of shipping to the company. Customer support is easy to reach via telephone. Staff is friendly and knowledgeable.
1

2

3

4

5

Not satisfied at all

Not very satisfied

More or less satisfied

Quite Satisfied

Very Satisfied

Category

Score

Affordability

5

Compatibility

N/A

Consumer Repairability

4

Dependability

5

Durability

5

Ease of Assembly

3

Ease of Maintenance

5

Effectiveness

5

Flexibility

3

Learnability

3

Operability

5

Personal acceptability

4

Physical Comfort

5

Physical Security

5

Portability

5

Securability

5

Supplier Repairability

4

Average

4.44
return to top