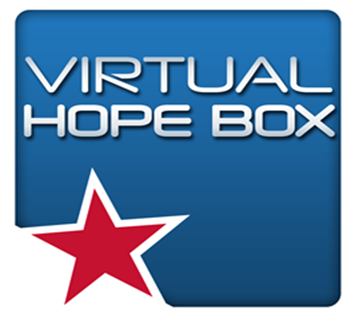 Reviewed on July 10th, 2015

By Jonathan Sills, PhD, ATP
Overview
The Virtual Hope Box application was developed by the by the National Center for Telehealth and Technology (T2). Winner of the 2014 Department of Defense Innovation Award, the application supports the use of adaptive coping strategies and positive health behaviors including relaxation, distraction, and positive thinking.
Indications/Contraindications
Developed specifically for use with military and veteran populations, the Virtual Hope Box mobile application appears to be a very good fit with technology proficient Polytrauma patients who are being treated for co-occurring mental health conditions such as PTSD and depression. As the application was developed to be an adjunct to psychotherapy, patients should be connected with a mental health provider while using the application. In addition, as the application works on mobile devices that utilize a touch screen interface, patients with fine motor deficits may have some difficulty navigating the application without adaption.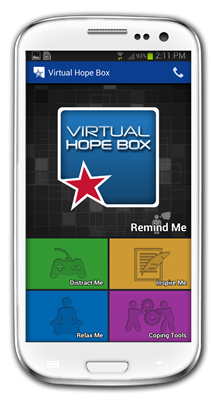 Affordability/Compatibility: The Virtual Hope Box app is free and available on both iOS and Android platforms. However, users of the application must have a tablet device or a smartphone.
Consumer Repairability/ Dependability/Durability: Both iTunes and the Google Play store provide updates as available. When used with veterans for trial purposes, the application appears to be stable and consistently functional.
Ease of Assembly: N/A. Virtual Hope Box is a software application, not hardware. As described above, the application can be rapidly downloaded on to a given device for free from both the Apple iTunes and the Google play store.
Ease of Maintenance: App stores provides free updates as available.
Effectiveness: Virtual Hope Box allows the user to develop custom, personal, content that can be accessed on an as needed basis to support initiation or maintenance of positive coping behaviors. Once trained in the use of the application's features, the app allows the user to engage in positive activity planning, to utilize distraction strategies/tools, and to participate in interactive behavioral relaxation exercises including progressive muscle relaxation, guided imagery, and diaphragmatic or controlled breathing.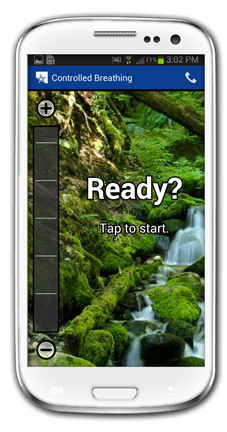 Flexibility: A particular strength of the application is that is highly flexible and customizable. The application features allow users to develop or add personalized content in a manner that can support the use of salient coping strategies.
Learnability: The app is very well designed and easy to use. Navigation of the applications various features is intuitive for most users. Content can be developed in conjunction with a therapist and adding content to the application can generally be accomplished in real time during successive therapy sessions.
Operability: Controls for navigating the application are straightforward, colorful, and visually appealing. Because the application works on mobile devices that utilize a touch screen interface, patients with fine motor deficits may have some difficulty navigating the application without adaption.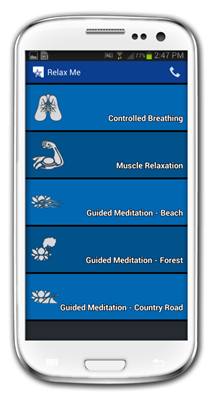 Personal Acceptability: The app can be fully integrated into the users existing personal mobile device. As the application's name and features are not indicative of a specific diagnosis, patient specific concerns about possible mental health stigma are reduced. Overall, the application appears to have a high level of personal acceptability among users to whom we have introduced the app.
Physical Comfort: N/A; the app is integrated within an existing mobile device
Portability: The application is highly portable as is integrated within a user's existing personal mobile device.
Securability: The user can also set a passcode lock for their mobile device which would help to protect an individual's privacy if the device and associate application was lost or stolen.
Supplier Repairability: N/A
1

2

3

4

5

Not satisfied at all

Not very satisfied

More or less satisfied

Quite Satisfied

Very Satisfied

Category

Score

Affordability

5

Compatibility

5

Consumer Repairability

5

Dependability

5

Durability

5

Ease of Assembly

5

Ease of Maintenance

5

Effectiveness

4

Flexibility

5

Learnability

4

Operability

4

Personal acceptability

5

Physical Comfort

5

Physical Security

5

Portability

5

Securability

4

Supplier Repairability

N/A

Average

4.75