Attention A T users. To access the menus on this page please perform the following steps. 1. Please switch auto forms mode to off. 2. Hit enter to expand a main menu option (Health, Benefits, etc). 3. To enter and activate the submenu links, hit the down arrow. You will now be able to tab or arrow up or down through the submenu options to access/activate the submenu links.
Rehabilitation and Prosthetic Services
Device Review: Pocket Endeavor Suite by AbleLink Technologies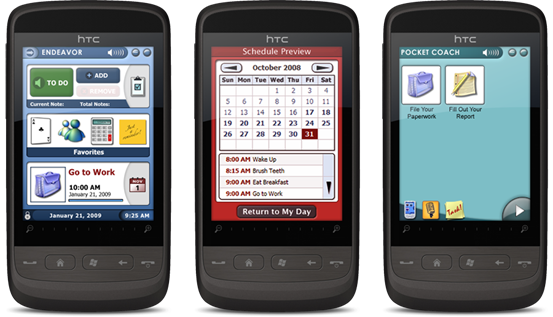 Reviewed on September 6th, 2012

By Telina Caudill, MS, CCC-SLP, ATP
Overview
Pocket Endeavor is a sophisticated electronic cognitive device designed specifically for individuals with TBI resulting in executive dysfunction and diminished organization and memory abilities. Pocket Endeavor was developed based on a vast experience with producing cognitive technologies as well as research with soldiers s/p TBI. The fully integrated electronic system offers a suite of programs displayed in a simplified and user-friendly design to provide the end user with supports related to scheduling, sequencing tasks, audio recording as well as an optional add-on program for simplified cell phone access. Talking buttons, customization options and addition of voice memos as well as personalized photographs offer useful features that may benefit patients with a variety of impairments in cognition, vision, language and motor.
Indications
Pocket Endeavor is indicated for patients with moderate-severe cognitive deficits. It would be indicated for patients who have not shown benefit from cognitive supports in the low- to mid-tech range such as memory notebooks and smart watches as well as from high tech universal design products such as iPod Touches and traditional smart phones. Specifically, Pocket Endeavor should be considered for those individuals who meet the above criteria and who demonstrate significant challenges with day-to-day memory, prospective memory and overall organization of daily information (i.e., to-do list, conversations with others, etc.). Moreover, it offers users who have mild-moderate deficits in initiation, perseverance and problem-solving but significant executive function deficits with both audio and pictured stimuli to facilitate step-by-step sequencing of individualized daily tasks (i.e., home exercise program, making a sandwich, doing laundry). Vision would need to be adequate for a lit display of approx 4" with small text. Motor dexterity skills including interacting with a touch screen interface whether by finger or stylus is required. The patient needs the fine motor skills and coordination to be able to demonstrate a timely tap on the screen for small to medium sized buttons. Their hearing sensitivity should allow them to hear various alarms or voice recordings in an array of environments with variable distractions present. The user must demonstrate functional auditory comprehension, speed of processing, initiation and termination skills to warrant use of this device (i.e., patient must respond to auditory alerts, terminate behaviors such as random perusal and inadvertent modifications to pre-set programming).
Contraindications
Pocket Endeavor may not be appropriate for users who are functional and meeting their life goals with lower tech options given the associated expense of the system. Users with severe disabilities who are unable to maintain a sophisticated system (i.e., battery charging, keeping it on them without misplacing it, ability to navigate from AbleLink to Microsoft software, avoiding physical damage) may not be appropriate for this system. Users who exhibit such severe impairments that they are required to have 24 hour supervision, are dependent in the community and who only respond to caregiver prompts vs. from that of an external aid, may not benefit from Pocket Endeavor. Patients who do not meet the criteria listed above (i.e., combination of severe cognitive, sensory, communication, and physical disabilities) as well as severe abulia or amotivation may not be appropriate to pair with this device.
Specific Criteria
Affordability: $1299 for Pocket Endeavor; $1399 with phone upgrade (Pocket Ace); pricing does not include hardware. There is a 60-day return policy from date of purchase.
Compatibility: Windows Mobile 5 or 6 OS, 300MHz ARM-based CPU, 240x320 pixel display, 64MB SDRAM, 2GB removable storage card, 128MB flash ROM, built-in microphone/speakers and phone enabled device for Phone Edition . As Pocket PCs have diminished from the market, Pocket Endeavor is limited to Windows OS smart phones and is not yet available on a tablet. This is not available for iOS or Android devices at this time although AbleLink has reportedly set forth to gradually transition their supports over to iOS. Given the increased popularity with iOS and Android based phones, as well as those users who may already have a smart phone in their possession, this could be considered a potential obsolete system in the future if not supported by other operating systems. AIMS Task Builder which is the desktop software used to build tasks for Visual Assistant, if added to the suite, can be installed and operated on Windows XP, Windows Vista and Windows 7, therefore requiring access to a computer.
Consumer Repairability: Two backup features are available to the user should reinstallation of the software be required. This can be achieved by reinstalling from the storage card, if not deleted, or via the CD that accompanied the unit. Instructions are included with the CD providing step-by-step directions for the installation process.
Dependability: The software appears reliable, at least for 3-5 years in our experience, though, as with many technologies, may perform sub-optimally given wear and tear associated with the hardware installed upon.
Durability: This applies to the hardware vs. the software. Added protection to the hardware can be provided via accessories such as screen protectors, belt clips and cases.
Ease of Assembly: Likely the easiest setup of the Pocket Endeavor would be the option to purchase both the hardware and the software pre-installed from AbleLink. Alternatively, the user who may already own a Windows OS device can install the software to their mobile device via the included CD and USB cable. Overall, the system is not entirely intuitive in terms of setup and programming though does offer beneficial guidance and prompts to the end user once initially setup whether by themselves, a caregiver or a member of the rehab team.
Ease of Maintenance: Standard care of an electronic device such as proper battery charging as well as avoiding water and/or temperature damage is required. Some devices include a stylus which is typically stored in a compartment on the device itself though can be lost if not properly replaced. User manuals are included within the software and available online at AbleLinktech.com. The Learning Library as well as webinars available online also provide useful tutorials on maintenance and operation.
Effectiveness: In terms of providing auditory and visual alerts to facilitate prospective memory tasks and/or general activities on a to-do list; Schedule Assistant and Audio Note is quite effective. Reminders can be programmed to repeat multiple times until the end user eventually responds (by touching the indicated button). Moreover, the system provides clear verbal instructions such as "You have a message, touch the screen to hear it" vs. a standard "beep" or tone alone. Users with visual impairments or language impairments such as alexia, will likely benefit from a multi-modality prompting system including customized voice alerts, pictured icons as well as text. A single tap of various icons or buttons allows the user to hear what exactly it is without actually opening or selecting it. This allows them to alter their actions and minimize troubleshooting; an "oops" if you will. Pocket Coach of course provides customized step-by-step sequencing of individualized tasks specific to the user and their environment(s). It allows the user to see pictures and hear voice instructions on how to complete various tasks, progressing through each step when they are ready. The buttons available to the user such as start, next, back can be modified according to their needs. Pocket Ace is a modified cell phone display, again, providing extra picture and voice prompting for those with cognitive, language, motor and/or sensory impairments. The user can tap a photo of their caregiver, for example, which will then instruct them to "Touch the picture again to call XXX." A disadvantage of Schedule Assistant includes lack of ability to set pre-appointment reminders such that an event occurring at 7am would need to be set at 6:50, per se, if the user needs a 10 minute leeway period in order to be on time. Also, Pocket Coach and Schedule Assistant are not directly linked together so that an alarm for brushing your teeth, for example, does not automatically take the user to Pocket Coach for step-by-step instructions. The end user, therefore, would hear the alarm and would almost need to independently start up Pocket Coach vs. having a caregiver do so or cue them.
Flexibility: Complete customization including personalized photographs, personalized voice recordings and instructions, modification of buttons (# of buttons, size of buttons) and modification of display is available. Additionally, although Pocket Endeavor suite includes Schedule Assistant, Pocket Coach, Audio Note Taker and the option for Pocket Ace, the user can add any other program from AbleLink that they desire and/or need such as Rocket Reader or Visual Assistant. Other Microsoft based programs can also be downloaded to the device dependent upon the amount of memory available on the hardware. The software is preset to display in English though the audio features of the system allow users to record in any language
Learnability: AbleLink's online Learning Library is available to provide step-by-step task instructions on a variety of the desktop and handheld programs. The step-by-step instructions are available for download and can be viewed on any AbleLink Task Player. User manuals can also be found on the website in addition to FAQs, webinars, videos and product data sheets. Tech support personnel both by email and phone are very knowledgeable and helpful. Responses are timely and delivered in a friendly manner. AbleLink willingly provides support and education, particularly for consumers such as the VA, in a variety of ways whether it be through webinars, phone supports, live in-services as well as presentations and demos at multiple AT conferences nationwide. The system is not entirely intuitive and specialized training is indicated for greater success and decreased risk of abandonment.
Operability: Most buttons are easily identified whether by text and/or pictured icons. The setup and exit buttons, unlabeled, must be memorized as to their functions though this is intentional as a way to discourage or limit the user with cognitive impairment from migrating from the dashboard into the programming area. Startup time is adequate though, as mentioned previously, can vary depending on the wear and tear of the hardware installed upon as well as the amount of memory available on the device.
Personal Acceptability: Because the software runs on Microsoft OS electronic devices of universal design, social acceptance is typically not an issue.
Physical Comfort: Compatible electronic devices are handheld, may include virtual and/or external keyboards for text entry, may include styli for text entries and are not known to overheat or cause any physical discomfort.
Portability: Compatible devices are handheld and portable by nature. They can easily be stored in a pocket, purse, fanny pack, backpack, etc. without difficulty. Can also be secured to assistive devices for mobility via Velcro and/or other mounting systems to ensure adequate access to the end user. If properly charged, the device can certainly be used throughout the day without requiring additional charging.
Securability: In terms of schedule backup, Schedule Assistant is not designed to sync with other schedule programs on the PDA or on a desktop computer. Additional programs on the suite do not run off of a PC, only on the mobile device with the exception of AIMS. Device accessories such as screen protectors and cases can provide physical protection. Small electronic devices, particularly, smart phones can be attractive to others and at heightened risk for theft if left unattended. Information security, at least, can be achieved through the setup of a password or pass code.
Supplier Repairability: AbleLink does not provide a warranty on hardware. The user would need to contact the manufacturer of the device to get warranty information and to order replacement parts. If the device was purchased from AbleLink, the manufacturer and warranty information is enclosed in the original packaging.
1

2

3

4

5

Not satisfied at all

Not very satisfied

More or less satisfied

Quite Satisfied

Very Satisfied

Category

Score

Affordability

2

Compatibility

2

Consumer Repairability

3

Dependability

5

Durability

5

Ease of Assembly

3

Ease of Maintenance

4

Effectiveness

3

Flexibility

4

Learnability

3

Operability

4

Personal acceptability

4

Physical Comfort

5

Physical Security

5

Portability

5

Securability

3

Supplier Repairability

2

Average

3.65
return to top