Attention A T users. To access the menus on this page please perform the following steps. 1. Please switch auto forms mode to off. 2. Hit enter to expand a main menu option (Health, Benefits, etc). 3. To enter and activate the submenu links, hit the down arrow. You will now be able to tab or arrow up or down through the submenu options to access/activate the submenu links.
Rehabilitation and Prosthetic Services
Device Review: Organizer To-Do: All-In-One Grocery, Task & Calendar Manager, Free Version by Yadahom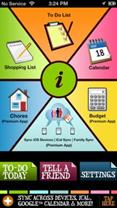 Reviewed on December 9th, 2013

By: Katina Sokol, SLP, ATP

Overview
Yadahome.com, LLC has multiple apps available for Apple products categorized under productivity, several are listed below:
Family Organizer: Shared Calendar and Grocery Lists for Families

Mom's Family Planner by Planneroo

Student Calendar & Homework Assignment Planner by Planneroo
The Organizer To-Do app is a productivity app that includes shared to-do items, shopping lists and a calendar. This app is excellent for Polytrauma veterans who have mild to moderate difficulties with prospective memory, attention and organization. Additionally, because of the shared feature of this app, it is ideal for veterans who live with family members or roommates.
Indications
Indications for use of this app include patients with adequate vision, hearing, upper extremity motor abilities and who have demonstrated ability to maintain and keep track of device that contains app. Additionally, patients need to have documented objective cognitive testing completed within 1 year that indicate patient has mild-moderate executive functioning deficits. Patients also need to functionally benefit from the use of this app, which can include being involved or responsible for managing tasks, appointments, taking medications, paying bills and/or shopping. Patients need to have adequate English skills and to be functionally literate.
Contraindications
Contraindications for this app include patients with severe executive functioning deficits, significant upper extremity motor issues, aphasia and/or limited English skills. Additional contraindications include if patient is unable to demonstrate ability to effectively use app features following training or if the patient is able to functionally compensate for deficits with behavioral interventions or non-electronic, low tech cognitive aids.
Criteria for Evaluation of Assistive Technology Device:
Affordability: App cost:
Free version which includes shopping list, to do list and calendar.

Premium version for iPhone and iPod touch cost $9.99 and includes budget and chores features, ability to synch with multiple devices, ability to sort grocery lists by aisle and quantity.

Premium version for iPad cost $2.99.
Compatibility: Currently this app is only available for Apple products. With premium versions app is able to synch across all iOS devices and is able to sync with iCal and other 3rd party calendars such as Google (via iOS Calendar).
Consumer Repairability: The company that developed this app, Yadahome, has a website which includes a link to contact support. However, during the period of reviewing this product it was attempted to access this link several times and received an error message. On the free app that was reviewed there is a section for frequently asked questions that can be used as resource if there are issues with using program.
Dependability: The app consistently worked over a period of several weeks. The alerts sounded when set and information was never altered or lost.
Durability: The app was accessed multiple times per day for several weeks for periods of time ranging from 5 minutes to 45 minutes. During that period the app never closed without user closing it nor did it malfunction in anyway. The durability of the actual device that would support this app would apply to Apple products, (ipad, iphone and ipod touch) and these devices can be easily broken if dropped at certain angle. Recommend making sure patients have a protective case (e.g. otterbox) for device that supports app.
Ease of Assembly: This app does not require assembly. Downloading app is quick and easy and requires an itunes account.
Ease of Maintenance: The app is easy to operate and does not really require maintenance after being downloaded.
Effectiveness: This app is incredibly effective with improving a patient's functional abilities and improves independence. The Organizer To-Do app has the capability to organize, prioritize and set alerts for tasks and shopping lists and calendars. Additionally, this app integrates the calendar with the shopping list and tasks, so if an individual enters a task and sets a due date, the task will automatically be able to be viewed when looking at the date it is due on the calendar. Being able to share/sync tasks and calendars is not a feature of the free version; however, in the premium version multiple family members can add and view calendars, task and shopping lists. If the app is shared, whenever a person enters a task or appointment into the shared app their name is listed beside the addition to communicate to everyone who views the app who added the information. Patients with attention and memory difficulties benefit from using this app because the alerts help them stay focused on specific tasks and when a task is completed it is visually marked through; however, remains visible to remind patient that task has been completed. Additionally, patients who tend to become overwhelmed when they see a long list of tasks can easily filter tasks by category, priority or due date to focus on a smaller and less overwhelming number of tasks to complete.
Flexibility: This app does provide a lot of flexibility with features; for example, customizable folders, customizable lists, color coded options for priority, etc. Of course, for the most flexibility with features the premium version is the best option.
Learnability: This app is very user friendly; easy to navigate and requires limited training from provider.
Operability: The app is quick to open, does not need wifi access to use most functions and did not malfunction while being used during period of trialing app.
Personal Acceptability: Patients who use this app report feeling comfortable with using it and are often quick to initiate sharing features of app they like with other veterans.
Physical Comfort: N/A
Portability: The app is downloaded onto Apple products (iPad, iPhone and iPod touch) and these devices are highly portable. The iPhone and iPod touch are more easily transported than the iPad secondary to size.
Securability: There is not a way to password-protect this app only; however, all of the apple products have the capability of being password protected through 'settings' under 'general'. The devices themselves are at risk for being stolen secondary to their high portability and desirability among general population. Recommend discussing general safety precautions with patients that include the following; not talking on iphone while in public, being aware of their surroundings and not setting devices on table while in public.
Supplier Repairability: The premium version of this app includes iCloud synch capability which would allow a patient to back up information on app in case app malfunctions or device is lost. Additionally, the company may be contacted via email through the website with issues about app.
1

2

3

4

5

Not satisfied at all

Not very satisfied

More or less satisfied

Quite Satisfied

Very Satisfied

Category

Score

Affordability

5

Compatibility

3

Consumer Repairability

3

Dependability

4

Durability

3

Ease of Assembly

4

Ease of Maintenance

4

Effectiveness

5

Flexibility

5

Learnability

5

Operability

4

Personal acceptability

5

Physical Comfort

4

Physical Security

3

Portability

4

Securability

3

Supplier Repairability

4

Average

4.0
return to top